In the recent issue, Newsweek Japan has come out with a special feature titled: "100 Japanese people the world respects".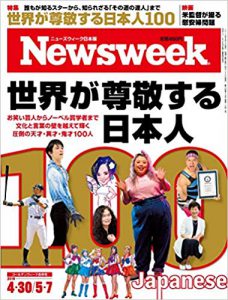 Not only the world-renowned athletes such as Ichiro (former MBL player) and Naomi Osaka (professional tennis player), but also there are many influential Japanese known only in certain countries.
In this feature, I would like to introduce three Japanese whom I am interested in.
Marie Kondo (Tidying consultant)
In 2010, Marie Kondo, "KonMari" became famous in Japan as an author of a bestselling book "The Life-Changing Magic of Tidying Up". Also, Netflix's hit show "Tidying Up With Marie Kondo" has been broadcasted since January 2019, and her popularity spread all over the world. In recent years the word "KonMari" has been used in a sense of "tidyng up". The KonMari Method encourages to keep only those things that spark joy, and to thank them for their service- then let them go. KonMari philosophy has changed the way of thinking about lifestyle, not just how to clean up the space.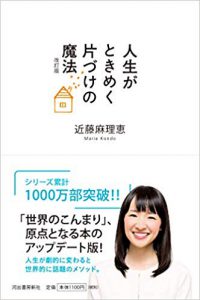 Hirokazu Koreeda (Film director)
I am sure that many of film fans might already know him well. His 2013 film, "Like Father, Like Son ("Soshite chichi ni naru")", won the Jury Prize at the 2013 Cannes Film Festival. And in 2018, his film, titled "Shoplifters ("Manbiki kazoku")" won the the highest prize award "Palme d'Or" at the Cannes Film Festival. Unlike Hollywood style, Mr. Koreeda's works are not flashy. The themes of his works is usually family matter and relationships, which are very thoughtful. Also, because of the theme, his movies would be very helpful to learn Japanese daily conversations as well.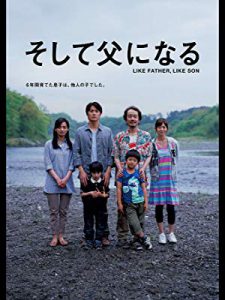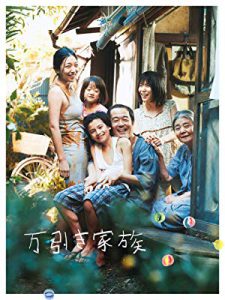 Kazuo Inamori (Entrepreneur)
Mr. Inamori was a founder of Kyocera and KDDI. In 2010, as requested by Japanese government, he took over as chairman of near-bankrupt Japan Airlines (JAL) with no salary. Furthermore, he successfully achieved a V-shaped recovery of 200 billion yen in operating profit in just two years from that, and now is called the god of management. "Seiwajyuku" , the learning groups of Inamori management philosophy, are spread into Brazil, the United States, Taiwan, Korea and Singapore, and his books are sold well in China as well.
As the opposite perspective, I hope someday you might be featured as "100 foreigners the Japanese respect" For that, I will do my best to contribute more for your learning Japanese language. (^ ^) /