Features of Japan Online School Lessons
Point 1

One-to-one Online Live Lessons
Advantages of one-to-one lessons
You have much more time to practice conversation than in a class lesson or group lesson.
Lessons can be tailored to your specific needs. No time is wasted studying unwanted material.
More time can be spent on highly effective learning methods such as topical discussions and role playing.
Rate of Retention by Learning Method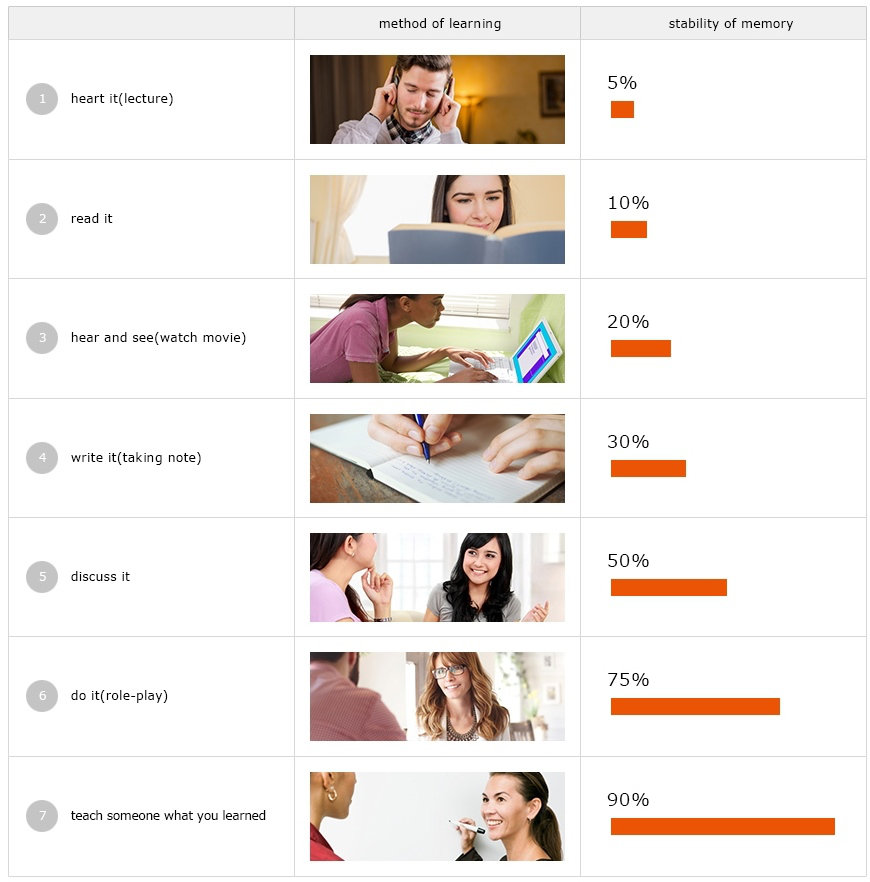 Point 2

24/7 OPEN. Wherever in the world

Online lessons are conducted over video phone.
The ability to take a lesson from the home or the office, early in the morning or late at night, offers the following advantages.

・Even very busy business people can take lessons.
・Even people who cannot leave the home (due to raising children, for example) can take lessons.
・You can utilize your time more efficiently because you do not need to go anywhere.
・There is no transportation cost to and from a physical school.

You can take lessons any time of day, because J-OS has registered Japanese language teachers living all over the world.
Point 3

Experienced, Friendly and Qualified Teacher

Utilizing only 6% of teachers that apply,
J-OS has the strictest teacher selection standards in the industry.
Teachers conducting lessons for J-OS have also completed our own in-house training.
Point 4

Very competitive fees

Offering one-to-one lessons with professional teachers starting from USD36.00-

This allows you to take one-to-one lessons for a fee comparable to group lessons at other schools.

Volume discounts allow you to lower the cost per lesson even further the more lessons you buy.

Receive up to 10% off of listed prices!
Reasons for high quality at a low price
You can save up to 40% on traditional lessons, because there are no classroom costs or transportation fees.
We have also prepared two types of tickets, allowing you to choose the best plan for you from a functional and cost perspective.