How many chat topics do you have?
"Chat" is an easy talk without deciding the theme. As well as talking with family and friends, chatting is essential in dates and business.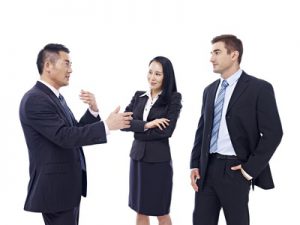 When I ask the Japanese businessmen around me, they say that the chat is very important.
One of them insists that "If you do various interesting talks and impress the other person with your charm, business negotiations will proceed. If you talk about the product from the beginning, no one will succeed."
I agree that it is more necessary to sell yourself than goods.
People who don't run out of things to talk about are called "people with many drawers."
Let's hold a number of drawers in your head.
Here are four examples of chatting.
1, Weather talk
Japanese love to talk about the weather. It is likely to start from this topic in many cases. You do not have to talk from yourself. Please try to enrich the story of the weather that the other person speaks. Please keep in mind that you always return it positive way.
Example
A-san: "It is cold today, is not it?"
B-san: "Yes, it is said that it is the coldest winter this winter, but the cold weather makes hot sake delicious, so why do not we go drinking together next time?
2, News stories
From now on, let's check the Japanese news. Besides big news, an interesting news such as "baby panda in Ueno" are also useful. If the other person likes animals or cute things, you may be able to mix those topics in the middle of the story. Also, Ueno is famous as a sightseeing spot, so you can use it when that story comes up. Television, internet and radio are useful, and referring advertisements in the train is also helpful to know outline of news. If you have news you care about, look it up on the spot with a smartphone.
3, Review your country
How well do you know about your country? Let's check not only cultures and customs, but also current trends in your country. By knowing how it is different from Japan, you may be interested in the other party. You may also find the same place as Japan. A special products of your city is a good topic to talk about.
4, School days experiences
Have you tried hard on something? Not only your major field of study, but also part time job or your boom at that time can be a good topic for chat. It would be better to summarize some of the hardships into episodes rather than having fun. Japanese people are interested in how you have studied Japanese. Let's recall, for example, what was difficult and what kind of words you liked.
Some people think that, "Even if I have stories, I cannot speak well!" However, listening to chats properly is one of the most important things. Especially for the people from Chinese background, I recommend that it is better to nod more than you normally do when listening the conversation.