It became a hot topic that Airbnb canceled all reservations for properties that violate Japanese law. And it is said that there are still various problems in the sharing economy. However, as the Mercari listed soon, the sharing economy itself is growing also in Japan, so I would like to introduce Japan's major sharing economy service this time.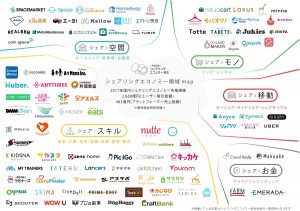 Sharing economies are generally classified into three categories: object shares, space shares, and skill share. (There are various opinions on how to classify.) The representative services of each are as follows.
(1) object shares
Mercari: The most famous in Japan as a flea market apps.
Laxus: All-you-can-use brand bags at 6,800 yen per month. Popular with young women.
Air Closet:A service that can wear three clothes chosen by a professional stylist at 6,800 yen per month.
Anyca :A service that allows you to lend and borrow a car among individuals.
If you like Initial D(Japanese manga), would not you want to drive this car?
This car that became famous by the movie "Wild Speed" should be popular.
※To use Anyca you need a driver's license issued in Japan. International licenses are not acceptable.
(2) space shares
Space Market: Services to lend and borrow party venues, conference rooms, photography studios, etc.
Akkipa:Services to lend and borrow parking lots.
ecbo cloak:A service that introduces space that temporarily keeps luggage such as large suitcase which does not enter coin locker. The site also supports English, Chinese, Korean.
DogHuggy:A service that allows you to leave your dog at other dog-lovers. Many people use it instead of pet hotel.
(3) skill share
Basically it is a service that provides individual skills and free time, but some also provide housekeeping or manual labor. The following services are famous.
TimeTicket、Any+Times、Coconala、Street academy
There is also a service called Traveloco specializing in matching with Japanese guides living abroad.
Foreigners may seem surprising, but general Japanese people are cautious about "lending and borrowing for a fee". (There are many people who will be kind to those in need.) There are many people who are concerned about trouble due to interaction between individuals in sharing economy. Therefore, many people think "Even if it is expensive, I will depend on the pros".
Many of (1) are comparable to the services provided by professionals and are inexpensive, so the number of users is increasing even around me, but those who use the service introduced in (3) There is not much yet. For the service introduced in (2), users and usage frequency are limited, but there may be strong demand for specific users, specific timing.
It may be the nationality of the country to decide which sharing economy will be popular there, rather than the regulation problem.